A GIGANTIC thank you to everyone who contributed and/or shared the Kickstarter campaign with friends and family. I cannot believe we pulled that off! I am feeling so blessed to have songwriting as an outlet, to have the ability to make something beautiful out of a difficult time, and to have the chance to connect so deeply with so many souls. Crowdfunding can be crazy terrifying, but it also is such a fantastic reminder of the need for community and connection. I would not have been able to do this without each and every one of you and I don't plan on forgetting that anytime soon.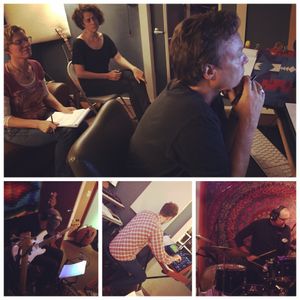 In other exciting news, I return to the East Coast this January to take part in the finals for the national 
Newsong Contest
 at The Lincoln Center in NYC!! It is such an honor to be chosen and to have the chance to perform in that space!! I wish I could bring all of you with me.
After the contest, I will head back to Boston for one last trip to the studio. We completed quite a lot during my last visit in November and I'm excited to be nearing the finish line! Once we finish perfecting my vocals and adding some harmonies, all that's left is mixing and mastering the recording, designing album artwork and coming up with a release plan! I'm reminded that anything worth doing is worth doing well...and doing things well often takes time. Thank you so much for your patience and support! 
Until my next big trip, I'm spending some time at home in Duluth, MN, praying for snow and preparing Kickstarter rewards! After much deliberation, I've decided not to release the live album I was working on this fall. The concert we recorded in my hometown on August 28th was a surprisingly emotional performance. While I am grateful to have record of the night and am proud to have made it through with the support of the audience, it's not something that's meant for sharing with the world.
INSTEAD, I'm putting on a free Christmas concert. Because money is a bad reason to miss out on joy. If you are in the Duluth area, I hope you'll join me on December 18th at Amazing Grace Cafe! 
Happy Holidays to you, whatever they may be!
xo
Rachael