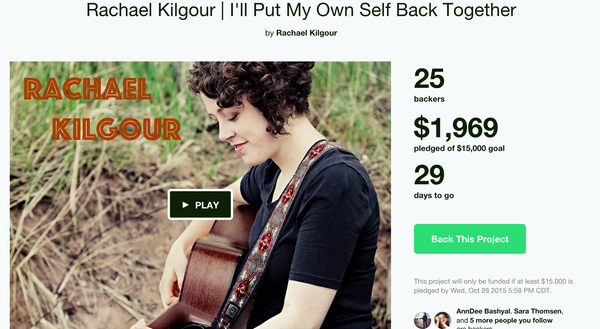 It's LIVE!!
My Kickstarter Campaign is up and launched! Here's how it works: I need to raise $15,000 in order to finish recording, manufacturing and releasing my new album and Kickstarter helps me do that. If you visit the site you can watch a short video about the project, read my story, donate/preorder a CD and choose from a variety of delightful rewards. The trick about Kickstarter is that I MUST reach the total amount by October 28th in order to receive ANY of the money, otherwise it will be returned to the donors. That means that your support is critical to the success of this campaign!
This has been a big year for me - both emotionally and professionally. I feel alive! I have some pretty intense gifts to share with the world right now and I need your help to make it happen.
After four days in the studio, I'm confident that this new album is going to be INCREDIBLE!!!! I can't wait to share it with all of you. Check out the Kickstarter video for a sneak peak of one of the songs! It features Duke Levine - a guitar legend who plays with the likes of Mary Chapin Carpenter, Aimee Mann and Roseanne Cash...to name a few. Holy buckets.
Please take a look, give what you can, and share it with everyone!
https://www.kickstarter.com/projects/738054106/rachael-kilgour-ill-put-my-own-self-back-together
Thanks for believing in me!
xo